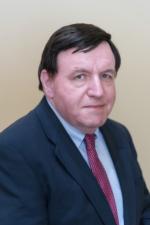 Dick Eppstein is the president of the Better Business Bureau that serves a 24-county area of Northwestern Ohio, Lima and Southeastern Michigan from its offices in Sylvania Township.  He is a graduate of the University of Toledo and the Better Business Bureau Institute for Executive Development, Washington, D.C. Eppstein is an Army veteran and has earned the Army Commendation Medal, Vietnam Signal Medal, Vietnam Advisors Medal and the Bronze Star as an officer in Vietnam.  For over 40 years, Dick has been involved in BBB work.  He is well known as a regular guest on Toledo WTOL-TV (Channel 11), and is also a regular media personality providing frequent alerts to over 70 TV, radio and print organizations in NW Ohio and SE Michigan.  The BBB under his leadership has established a national reputation for innovation, especially in its ethics instruction and charity review programs.

Among other honors, Dick is a three-time past president of the Ohio Better Business Bureau and has been elected to the Scott High School (Toledo) Hall of Fame.  He belongs to the FBI Citizens Academy, Association of Certified Fraud Examiners, and other professional organizations.

Dick and his wife, Grace, live in Sylvania Township. They are proud parents of two sons; Andrew, Chief of General Surgery at the Roudebush Veterans Administration Hospital in Indianapolis, and Alexander, Pastor at Bethel Reformed Presbyterian Church in Sparta, Illinois. They have five grandchildren.